Crow workshop series: Corpus Data Scraping and Sentiment Analysis
We are pleased to share that Crow researchers will be hosting a series of workshops targeted at teacher-scholars who, like us, value inclusive approaches to studying and teaching writing. These free hands-on workshops will be held on Zoom, making them accessible to people across the globe.
Our first workshop, "Corpus Data Scraping and Sentiment Analysis," will be hosted by Adriana Picoral, PhD, assistant professor of data science at the University of Arizona.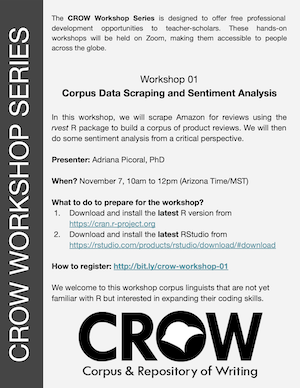 Corpus Data Scraping and Sentiment Analysis
Saturday, November 7, 10am to 12pm (Arizona Time/MST)

In this workshop, we will scrape Amazon for reviews using the rvest R package to build a corpus of product reviews. We will then do some sentiment analysis from a critical perspective. We welcome to this workshop corpus linguists that are not yet familiar with R but interested in expanding their coding skills.

Register through Zoom. For more information, please contact Dr. Picoral.
Future workshops will include other subject matter including grant writing, developing distributed teams, applying for dissertation fellowships, building learner corpora, and more. Got a workshop suggestion? Let us know!