Congratulations, Dr. Gao! (A Crow spotlight)
Congratulations to Dr. Jie (Wendy) Gao (高洁), who recently defended her dissertation, "Linguistic Profiles of High Proficiency Mandarin and Hindi Second Language Speakers of English." Dr. Gao's committee was Purdue professors Dr. April Ginther, Dr. Elaine Francis, and Dr. Tony Silva, with Dr. Xun Yan from the University of Illinois Urbana-Champaign.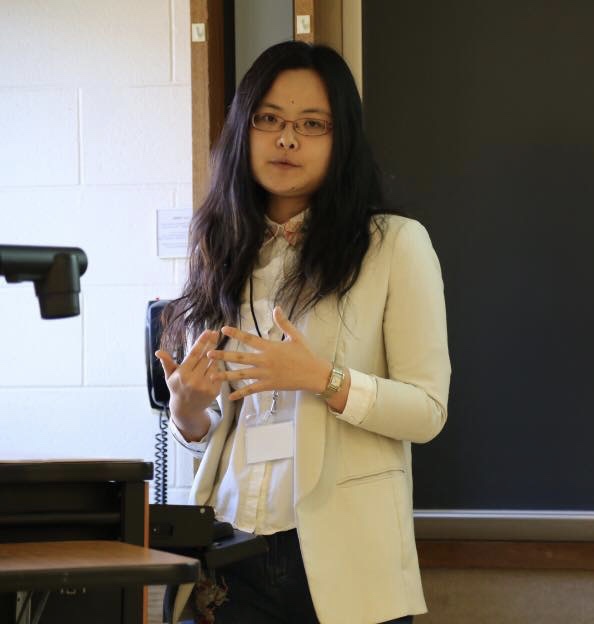 At Purdue, Dr. Gao has been studying second language studies, language testing and corpus studies. She has been a member of Crow since she first met Dr. Staples in 2015, at the inception of the Crow program. In that time, she's gotten through an entire PhD program—so needless to say, she's made some big contributions to Crow throughout her tenure.
Dr. Gao's linguistics background runs deep. She studied at Shandong University for her undergraduate education, majoring in Translation and Interpretation with a Minor in French. She continued her studies with a masters degree from Tsinghua University in Beijing, studying applied linguistics. At Purdue, her PhD studies and research have been in the areas of second language studies, language testing, and corpus studies. Between her time in mainland China, a summer semester in Taiwan, continued studies of French, and her experiences in the United States, Dr. Gao has experienced a multitude of different language environments. These diverse experiences have guided her thinking in her research positions.
Here in West Lafayette, she has held multiple positions as a research assistant. Dr. Gao began as a research assistant with Oral English Proficiency Program (OEPP) as a testing office assistant. Her job has been to evaluate the oral proficiency level of graduate students before they begin teaching in the classroom. She also served as a research assistant for the Purdue Language and Cultural Exchange (PLACE). These two experiences primed her for the Crow research environment.
Rounding out her experiences outside of Crow, Dr. Gao has seen linguistics through the eyes of the instructor. In her masters program, she was a teaching assistant, while here at Purdue, she has been an instructor for English 106, 106INTL, and 108 classes. Being an instructor can be more demanding and involved than rating papers as a research assistant, but Dr. Gao loves it nonetheless. While most of her teaching experience has been in writing, she hopes she'll be able to teach in her true passion: linguistics.
In her time with Crow, Dr. Gao has truly run the gambit on her contributions. She was first drawn to Crow because of its overlap with her previous work in her masters program, where she developed an automatic scoring system for writing. In her tenure with Crow, she has focused on a few major projects and topics. She first focused on repository building, working to unify the corpus into a uniform format and standardize handling of pedagogical materials.
She has also spent a significant time becoming proficient at statistical programming, including SAS, SPSS, and Python. Dr. Gao has also written pedagogical papers for Crow and presented at conferences across the world, everywhere from Purdue to Birmingham, United Kingdom. And to top it all off, she has engrossed herself in grant writing. Right now, Dr. Gao spends her time in Crow serving as an external reader and provides feedback to the different groups within Crow.
Besides looking forward to postgraduate work, Dr. Gao shares her knowledge and experience with the newer Crowbirds by mentoring undergraduates in Crow at Purdue. She has worked with Echo Yan to host a workshop on Crow at a Purdue digital humanities symposium. Dr. Gao has also been working with David Stucker to find past winners of grants. This is a part of a crucial Crow mission to have graduate team members understand how to benefit from working with undergraduates.
Dr. Gao's dissertation centers on an analysis of over 400 speech samples of higher level second language speakers of English from across East Asia. This work will go towards developing a more holistic analysis of English proficiency, incorporating vocabulary, speed, and importantly accentedness into the metric. Like fellow Crowbird Dr. Ge Lan, Dr. Gao plans to return to her native China soon, where she hopes to take a position in applied linguistics. A perfect scenario for her would be to study and teach linguistics back in China. We look forward to her continued work with our project!
Update, August 16: Dr. Gao has accepted a position in the Department of English at Fudan University in Shanghai. Congratulations!