C&W 2019 Workshop
This summer, we have the opportunity to continue sharing our interface at various conferences. We are excited to lead a mini-workshop (Session G, Sat 6/22, 2:00p, Riverside Room) at this year's Computers & Writing conference, where we will discuss the technical and ethical processes for building our database and provide users time to explore our interface. Attending? Workshop materials are at the bottom of this page.
Exploring a web-based archive of writing and assignments
Our team has developed the first web-based archive that links a repository of pedagogical materials with a corpus of student texts written in response to those assignments in first-year composition courses. This workshop will allow participants to explore the features of our platform for their own research and writing courses. A guided tour of our web interface will be followed with extensive individual work time supported by researchers. Participants will learn to explore linguistic and rhetorical features of student writing, develop classroom activities or research plans, and explore other uses.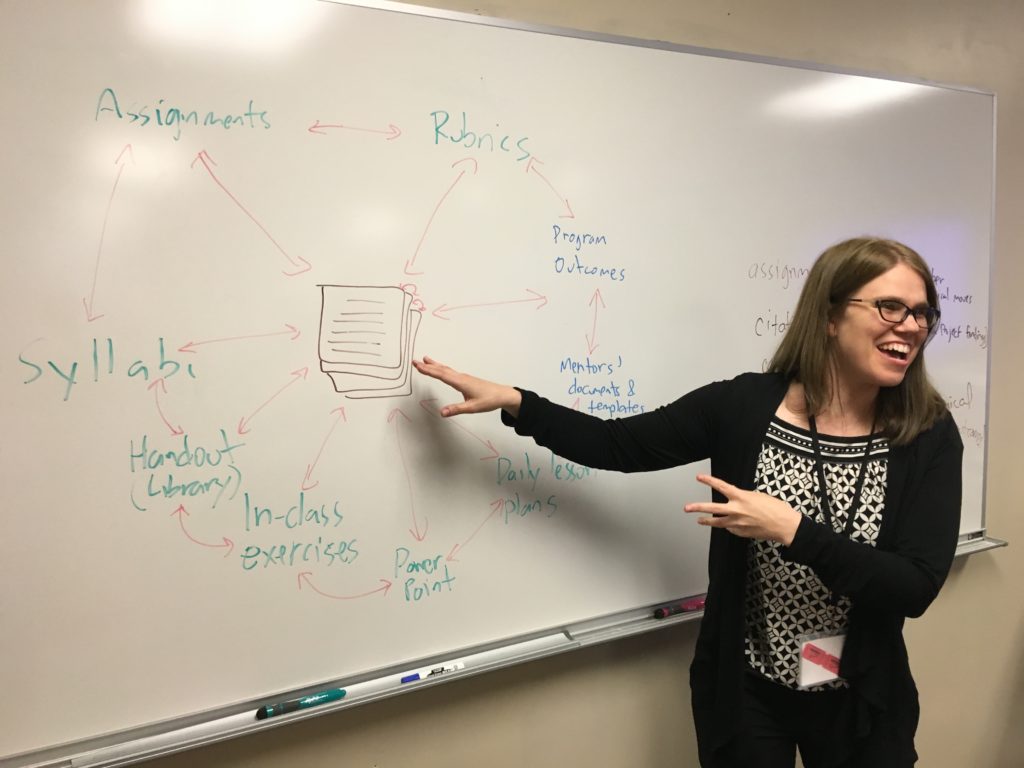 Takeaways
After our workshop, participants will be able to:
Use our platform to explore linguistic and rhetorical features of student writing;
Develop classroom activities or research plans based on the corpus and repository date available through our platform;
Discuss how information from our platform could be further developed for research and inform language teaching;
Explore opportunities for managing data for programmatic use, such as assessment or professional development.
In addition to these main goals, participants will gain a general understanding of the data processing and development required to sustain for data-driven web-based software like our platform. Interested? Keep reading for a full description of our workshop.
Objective
This workshop will allow participants to explore the features of our platform for their own research and writing courses. For example, instructors can search writing to investigate the linguistic and rhetorical practices of undergraduate writers. This could illuminate how students change the form and function of the language used across genres and drafts. Researchers can explore the ways multimodal writing is influenced by the assignment sheets developed by instructors. Writing program administrators can track the development of assignments and syllabi over time.
We will start with a brief description of our project, including an overview of our goals and the technical and ethical considerations of data processing and open-source platforms. An interactive presentation will follow the introduction, where participants (with or without previous knowledge of corpora) will follow step-by-step instructions to explore possibilities for corpus-informed classroom activities and research.
Participants will then have time to work independently or in small groups to explore possibilities for using the Crow platform according to various needs. For example, a first-year composition teacher might prepare a lesson on using reporting verbs (like "argue," "show," or "said") in a research proposal, integrating data-driven investigation of the use of reporting verbs in student writing. During this work time, Crow researchers will be available to assist participants with our web-based system and to discuss future possibilities for writing research.

Workshop agenda
We welcome live-tweeting of our session (G.13).
Workshop slides
Please follow along if you like. If you have any trouble accessing our slides, ask a Crow team member for help.
Crow is supported by the Humanities Without Walls consortium, based at the Illinois Program for Research in the Humanities at the University of Illinois at Urbana-Champaign. The Humanities Without Walls consortium is funded by a grant from the Andrew W. Mellon Foundation.
We also thank the American Council of Learned Societies (ACLS) for their support.